News and Latest Additions
10.10.2018
Publications Highlight in Nano Letters with MAINZ PhD Student Weixiang Ye as Co-Author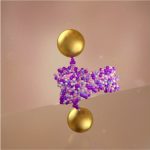 The function of proteins – the molecular tools of the cell – is governed by the interplay of their structure and dynamics. Advances in electron microscopy have now enabled scientists to capture structural information in amazing detail, but it is still difficult to monitor protein dynamics, especially over long periods of time. A team led by Prof. Dr. Thorsten Hugel from the Institute of Physical Chemistry and the BIOSS Centre for Biological Signalling Studies at the University of Freiburg and Prof. Dr. Carsten Sönnichsen from the Johannes Gutenberg University Mainz have used a new method to record the dynamics of individual proteins in action over 24 hours. Comparable measurements were previously only possible for a few seconds. They describe their approach and results in an article in the journal Nano Letters.
The researchers attached two gold nanoparticles to the protein of interest and observed the distance-dependent interaction of the gold spheres using laser beams. The stability of this molecular assembly makes it possible to create a video of the movement of the protein over a whole day. Thus, it extends the previously achievable measuring range of other single-molecule measurements by several orders of magnitude and enables researchers to ask new types of questions. In future, it might be possible to test whether individual molecules display memory, or whether proteins with an identical chemical structure might behave differently over long periods of time.
The biochemist and physicist Dr. Markus Götz worked in the Hugel laboratory at the University of Freiburg and is an expert on the heat shock protein Hsp90. Hsp90 is present in almost all cells in the human body and has important functions in many fundamental processes. For example, it plays a central role in the folding of linear amino acid chains into functional proteins with a precisely defined structure. "For the first time, we were able to observe the movements of Hsp90 over long periods of time. The significance of some newly discovered strikingly slow movements in Hsp90 is not yet fully understood," explains Hugel.
Electrical engineer Weixiang Ye from the laboratory of Sönnichsen in Mainz has developed a greatly improved measurement setup for this project. It was important, for example, to reduce the huge amount of data collected during the 24-hour recording such that the recordings could be played back on normal computers. The biomedical chemists Sirin Celiksoy and Laura Tüting from the University of Mainz carried out the complex chemical tinkering that is required to specifically place a single protein between two tiny gold nanoparticles and ensure that the nanoparticles do not stick to one another.
For this project, Hugel and his colleague Sönnichsen have both received prestigious grants from the European Research Council (ERC). "The ERC funding has enabled us to develop this project from the ground up before we were able – almost 10 years later – to make and analyse these measurements" says Sönnichsen. "None of us would have managed such a complex project on its own. The decisive factor was that we combined our respective expertise in Mainz and Freiburg." Based on the current results, Hugel and Sönnichsen are certain: "We want to continue and expand our collaboration."
More information can be found at: https://idw-online.de/de/news703628
17.09.2018
Publications Highlight in Nature with MAINZ PhD Student Andrew Ross as Co-Author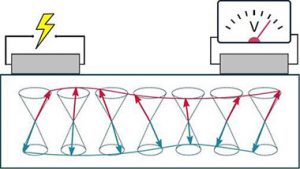 Conventional devices using current CMOS based technologies have the unwelcome side effects of getting too hot and being limited in their speed, operating at GHz frequencies. Eventually, this is slowing down the progress of information technology. In the last years, the emerging field of "magnon spintronics" aimed at using insulating magnets capable of carrying magnetic waves, known as magnons, to solve these problems. Magnons are able to carry information at increased speeds without the production of excess heat. However, experimental observations had so far been limited to ferromagnetic materials.  In collaboration with the Quantum Spintronics at NTNU and Utrecht University, our group has demonstrated that magnons can also efficiently carry spin information in antiferromagnets, the largest group of magnetic materials. This class of material has several crucial advantages over ferromagnetic components as they are stable and unaffected by external magnetic fields, a key requirement for future data storage. Additionally, antiferromagnet based devices can be potentially operated thousands of times faster than current technologies, as their intrinsic dynamics are in the THz range. As a result, antiferromagnetic magnons could thus be used in future ultra-fast and low power technological devices.More information can be found at:
https://www.nature.com/articles/s41586-018-0490-7
27.08.2018
Christian Berac elected as new MAINZ Student Represenative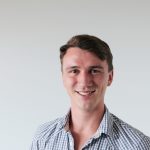 We congratulate
Christian Berac
(AK Besenius, JGU) for currently being elected as new MAINZ Student Representative. He follows in line of succession
Mariia Filianina
(AK Kläui, JGU) who did a great job in the previous year. We highly appreciate Mariia´s input and effort to improve MAINZ Graduate School and wish her all the best for her future.
19.07.2018
MAINZ Visiting Professorships 2018 for Anna I. Krylov from the University of Southern California, USA, and Klaas-Jan Tielrooij from the Institute of Photonic Sciences in Spain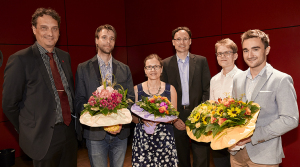 The Graduate School of Excellence Materials Science in Mainz (MAINZ) at Johannes Gutenberg University Mainz (JGU) has awarded visiting professorships to two outstanding scientists. The MAINZ Visiting Professorships 2018 were presented at a gala event to Professor Anna I. Krylov, a theoretical chemist at the University of Southern California, USA, and to Dr. Klaas-Jan Tielrooij, a physicist at the Institute of Photonic Sciences in Barcelona, Spain. Visiting professorships were established by MAINZ to attract foreign scientists to the various departments of the Graduate School so they can do part of their research here and work with the doctoral candidates studying at MAINZ. Their input can take the form of lectures, seminars, and workshops that help in training doctoral candidates at MAINZ. The MAINZ Visiting Professorships have been awarded annually since 2013.
Anna I. Krylov, University of Southern California, USA
Professor Anna Krylov is an internationally renowned scientist in the area of theoretical chemistry. She is particularly well known for her many contributions dealing with method development in quantum chemistry as well as state-of-the-art applications of quantum chemistry to pending chemical problems. Her focus is on electron correlation and the treatment of electronically challenging states (radicals, excited states, etc.) using coupled-cluster and equation-of-motion coupled-cluster methods. Anna Krylov received the Bessel Research Award from the Alexander von Humboldt Foundation in 2011 and is a member of the International Academy of Quantum Molecular Science since 2015.
Klaas-Jan Tielrooij, Institute of Photonic Sciences, Spain
Dr. Klaas-Jan Tielrooij is a highly multidisciplinary scientist with a track record across the fields of ultrafast phenomena, nanotechnology, and graphene and related 2D layered materials. He received the FOM Physics Thesis Award 2011 for his PhD research at AMOLF in Amsterdam and holds a degree in Innovation and Entrepreneurship from Chalmers University as well as a postgraduate diploma in Economics from the London School of Economics. He joined the Institute of Photonic Sciences in Barcelona in 2011 with an NWO Rubicon grant. Here he combines studying fundamental physics with identifying potential applications in the fields of photodetection, quantum technologies, and telecommunications.
Photo:
(fltr) JGU Vice President Stefan Müller-Stach, MAINZ Visiting Professor Klaas-Jan Tielrooij, MAINZ Visiting Professor Anna I. Krylov, MAINZ Director Mathias Kläui, MAINZ awardee Hagen Söngen, and MAINZ awardee Philipp Heller
photo/©: Frank Wiedemeier, MAINZ
Contact:
Dr. Michael Fuchs
General Manager
Graduate School of Excellence Materials Science in Mainz (MAINZ)
Johannes Gutenberg University Mainz
55099 Mainz, GERMANY
phone +49 6131 39-26984
fax +49 6131 39-26983
e-mail: mainz@uni-mainz.de
http://www.mainz.uni-mainz.de
http://www.mainz.uni-mainz.de/2562.php
05.07.2018
Scientists, incl. MAINZ PhD student Sven Otto, develop highly sensitive molecular optical pressure sensors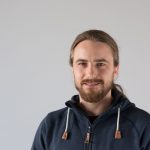 An international team of chemists headed by Professor Katja Heinze at the Johannes Gutenberg Universites Institute of Inorganic Chemistry and Analytical Chemistry in Mainz and Professor Christian Reber at the Université de Montréal in Canada have developed a molecular system capable of very precise optical pressure measurements. The gemstone ruby served as the source of inspiration, but the new system is not only capable to detect pressure changes more than twenty times smaller but also soluble in water and organic sovents.
The chromium(III) complex, also called "molecular ruby", has potential applications in the fields of materials sciences, homogeneous and heterogeneous catalysis, and all conceivable fields where pressure changes need to be monitored. The research findings have recently been published in Angewandte Chemie International Edition.
Sophisticated pressure-dependent luminescence measurements performed by Sven Otto during his secondment in Montréal in conjunction with ligand field and high level ab initio calculations allowed to further understand the influence of hydrostatic pressure on the optical properties of luminescent materials.
05.07.2018

Johannes Gutenberg University Mainz ranked number 1 in the natural sciences in Germany in the 2018 DFG Funding Atlas
JGU leads the list of higher education institutions with the highest DFG awards for 2014 to 2016 / Well ahead in funding per capita and in the discipline of physics
In the 2018 DFG Funding Atlas published today by the German Research Foundation (DFG), Johannes Gutenberg University Mainz (JGU) tops the rankings in the natural sciences, ahead of the universities of Hamburg and Bonn. JGU received the highest volume of DFG funding in the natural sciences – some EUR 70 million in total – in the period 2014 to 2016, which is more than any other German university. Compared to the previous three years, this represents an increase of more than 80 percent and an improvement of 13 positions in the national ranking. Remarkably, JGU leads by an even greater margin in the ranking based on funds allocated per researcher, in this case ahead of the Humboldt-Universität zu Berlin. According to the 2018 Funding Atlas, JGU ranks among the institutions with an overall profile that places a strong focus on the natural sciences.

Physics at Mainz University has a large share in this success, namely with its PRISMA Cluster of Excellence and a DFG-funded collaborative research center (CRC) in the field of Particles, Nuclei and Fields as well as another CRC in the field of Condensed Matter Physics. Both research areas of JGU Physics are explicitly named in the 2018 Funding Atlas. In the field of physics alone JGU is leading nationwide by a significantly greater margin than in the natural sciences as a whole. Mainz University also achieved an outstanding placement in mathematics, which is ranked 9th.

"We are proud of the fact that JGU is at the top of all German universities in the natural sciences. This excellent success is affirmation of our great achievements, particularly those of our physicists and mathematicians in the key profile areas of our university," said Professor Georg Krausch, President of Johannes Gutenberg University Mainz. "This encourages us to persist with our profile-forming strategy and the associated expansion of cutting-edge university-based research based on specific projects." The success achieved by JGU in acquiring DFG funding is confirmed by the figures for European Research Council (ERC) funding in the years 2014 to 2016, which are also listed in the 2018 Funding Atlas. With four ERC grants in the natural sciences, JGU is in the leading group here as well. Only Heidelberg University with seven ERC grants and the University of Cologne and the Technical University of Munich with five ERC grants each were able to win more funding for top researchers.

JGU has also proved successful in the humanities and social sciences, where it improved its ranking by five places to 17th. The humanities even managed a solid 13th place. At a total of almost EUR 22 million in funding from 2014 to 2016, DFG funding for Johannes Gutenberg University Mainz was some EUR 4 million higher than in the previous three years. "Given our financial position, which is below the national average, this is a considerable achievement," concluded Krausch.
Contact

Petra Giegerich

Head of Press and Public Relations

Johannes Gutenberg University Mainz

55099 Mainz

Tel.: +49 6131 39-22369

Fax: +49 6131 39-24139

presse@uni-mainz.de
29.05.2018
MAINZ Visiting Professor Klaas-Jan Tielrooij highlighted in Science Advance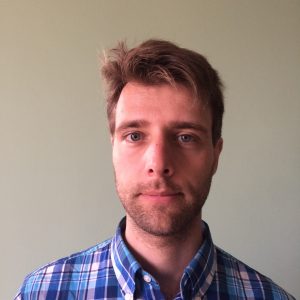 The photoexcited graphene puzzle solved
A boost for graphene-based light detectors
Light detection and control lies at the heart of many modern device applications, such as the camera you have in your phone. Using graphene as a light-sensitive material for light detectors can offer significant improvements with respect to materials being used nowadays. For example, graphene can detect light of almost any colour, and it gives an extremely fast electronic response within one millionth of a millionth of a second. Thus, in order to properly design graphene-based light detectors it is crucial to understand the processes that take place inside the graphene after it absorbs light.Mainz researchers Dr. Hai Wang, Prof. Dmitry Turchinovich, Prof. Mathias Kläui, and Prof. Mischa Bonn, in collaboration with scientists from various European labs, have now succeeded in understanding these processes. The project was led by Dr. Klaas-Jan Tielrooij from ICFO in Spain, who was recently elected as visiting professor at the Graduate School of Excellence "Materials Science in Mainz" (MAINZ).Published recently in Science Advances, their work gives a thorough explanation of why, in some cases, the graphene conductivity increases after light absorption and in other cases, it decreases. The researchers show that this behaviour correlates with the way in which energy from absorbed light flows to the graphene electrons: After light is absorbed by the graphene, the processes through which graphene electrons heat up happen extremely fast and with a very high efficiency.For highly doped graphene (where many free electrons are present), ultrafast electron heating leads to carriers with elevated energy – hot carriers – which, in turn, leads to a decrease in conductivity. Interestingly enough, for weakly doped graphene (where not so many free electrons are present), electron heating leads to the creation of additional free electrons, and therefore an increase in conductivity. These additional carriers are the direct result of the gapless nature of graphene – in gapped materials, electron heating does not lead to additional free carriers.This simple scenario of light-induced electron heating in graphene can explain many observed effects. Aside from describing the conductive properties of the material after light absorption, it can explain carrier multiplication, where – under specific conditions – one absorbed light particle (photon) can indirectly generate more than one additional free electron, and thus create an efficient photoresponse within a device.The results of the paper, in particular, understanding electron heating processes accurately, will definitely mean a great boost in the design and development of graphene-based light detection technology.REFERENCE
The ultrafast dynamics and conductivity of photoexcited graphene at different Fermi energies
Science Advances
A. Tomadin, S.M. Hornett, H.I. Wang, E.M. Alexeev, A. Candini, C. Coletti, D. Turchinovich, M. Kläui, M. Bonn, F.H.L. Koppens, E. Hendry, M. Polini and K.J. TielrooijFUNDING INFO
This work was funded by the E.C. under Graphene Flagship, as well as a Mineco Young Investigator grant.CONTACT
Klaas-Jan Tielrooij, klaas-jan.tielrooij@icfo.eu, +34691361210
Andrea Tomadin, andrea.tomadin@mac.com
28.05.2018
MAINZ Summary 2014-2016 fresh from the printer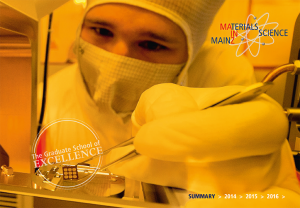 Finally, the newest MAINZ Summary, spanning the years 2014, 2015 and 2016, is out in its printed version and
ready for download
. We want to thank all of you that contributed to the Summary with your profiles, testimonials, photos and feedback!
13.06.2018
Physicists modify the atomic interaction in ultracold matter
Physicists at the Technische Universität Kaiserslautern (TUK) under the leadership of Professor Dr.
Herwig Ott
have succeeded for the first time in changing the interaction between two atoms in ultracold matter with the aid of so-called Rydberg molecules. These recently discovered large molecules consist of only two atoms whose binding mechanism cannot be described with common chemical models. They have extraordinary properties such as a long bond length. The study has now been published in the renowned journal "
Nature Communications
".
Interactions are the fundamental master builder of our world. Not only in social life, but also in the matter that surrounds us. As early as the beginning of the 20th century, the physicist Ernest Rutherford discovered that even gold consists of more than 99 percent nothing. Only the interaction of individual particles makes matter what it is. It keeps our world together at its core.
This applies not only to our everyday world, but also to the world of quantum physics. Physicists often use ultracold atomic gases to investigate quantum phenomena. "Temperatures are around absolute zero, which means -273 degrees Celsius," says Professor Dr. Herwig Ott, who is conducting research at the TUK on ultracold quantum gases and quantum atom optics. "The behavior of atomic gases is determined by the interaction between atoms." In this context, experts also speak of a quantum mechanical scattering process. "Such gases are of great importance to science when investigating quantum mechanical effects, because these interactions can be changed in the laboratory," the professor continues.
This is usually not the case with the matter that surrounds us in everyday life. "The water molecules in a glass of water, for example, always have the same interaction and the question of what would be the properties of water if the water molecules were to attract twice as much cannot be answered experimentally," said the physicist.
The scientists around Professor Ott have now succeeded for the first time in changing the interaction between ultracold atoms with the aid of so-called Rydberg molecules. The idea for this experiment: Two atoms that collide are briefly put into a state corresponding to one molecule by means of a laser beam. "This allows them to remain together for a long time," explains the professor. "This alters the quantum mechanical scattering process between the two atoms and thus the interaction between them."
The researchers in Kaiserslautern were now able to observe this in experiments: Therefore, they "built" a Rydberg molecule from two rubidium atoms. This form of the molecules was discovered only a few years ago. These molecules can be as large as viruses but consist of only two atoms. As a rule, molecules consisting of two atoms are much smaller. In contrast to previously known bonds, in which, for example, two atoms each divide one electron, a different mechanism works here: An electron has only a very weak bond to the atomic nucleus and is located on an outer electron path, it is in a so-called Rydberg state. The second atom now experiences a quantum mechanical interaction with the electron and a weak bond is formed between the two atoms.
"These molecules have a number of extraordinary properties," said the professor, "such as their extremely long bond length of several hundred nanometers and their very large electrical dipole moments." Science understands this as the fact that molecules can have a spatially separated positive and negative charge.
The results of the scientists from Kaiserslautern make it possible to change the interaction in almost any ultracold gas. On the other hand, they also open up new application possibilities such as the direct control of multi-particle interactions. "But interactions with longer ranges than previously possible can also be induced in the future," cites the physicist as a further example. "This could enable new states of matter to be realized in ultracold gases in the future."
The study has now been published in the renowned journal "Nature Communications": "Experimental realization of a Rydberg optical Feshbach resonance in a quantum many-body system";
O. Thomas
, C. Lippe, T. Eichert &
H. Ott
DOI: https://doi.org/10.1038/s41467-018-04684-wThe work was financed by the State Research Centre for Optics and Materials Science (OPTIMAS), the Graduate School "Materials science IN MainZ" (MAINZ) and the two special research areas "Condensed Matter Systems with Variable Many-Body Interactions" and "OSCAR - Open System Control of Atomic and Photonic Matter".
PUBLIC RELATIONS
Public Relations
Gottlieb-Daimler-Straße 47
67663 KaiserslauternPhone: +49(0)631/205-4367
E-Mail: presse@uni-kl.de
www.uni-kl.de
Questions can be directed to:
Prof. Dr. Herwig Ott
Phone: 0631 205- 2817
E-mail: ott@physik.uni-kl.de
23.05.2018
With tiny particles against major diseases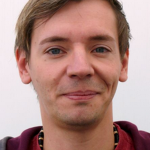 Mainz scientists fight fungal disease on vines with nanotechnology
Fungal disease of crop plants causes millions of Euros of agricultural damage every year. Often they cannot or only hardly be medicated by commercial chemical protection. Scientists around Priv.-Doz.
Dr. Frederik R. Wurm
of the Max Planck Institute for Polymer Research (MPI-P, Department of Prof. Dr. Katharina Landfester) in Mainz, Germany, are developing a nanotechnology-based protection with minimal use of active agent, which avoids excessive spraying of fungicides. In cooperation with the "Institute for Biotechnology and Drug Research" and the Institute for Crop Protection in Neustadt a. d. Weinstraße (DLR), the project went into the next phase: The technology was applied to a test vineyard of the DLR.
...
26.04.2018
Uday Chopra admitted as new member of the Gutenberg Academy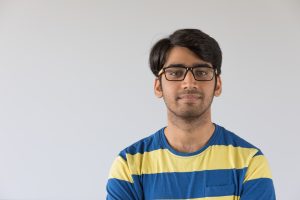 We are very proud to announce that MAINZ PhD Student
Uday Chopra
(AK Sinova, JGU) is among the new members of the Gutenberg Academy for Young Researchers. Congratulations! He was admitted to the academy in a ceremony on April 23 together with 11 other PhD students from all scientific disciplines at JGU. The academy brings together up to 25 of JGU's best PhD students and artists and provides them with the chance to participate in an interdisciplinary exchange of ideas at the highest intellectual level.
...
03.04.2018
Highlight Publication by Lisa Dreier in Science Advances