News and Latest Additions
19.07.2018
MAINZ Visiting Professorships 2018 for Anna I. Krylov from the University of Southern California, USA, and Klaas-Jan Tielrooij from the Institute of Photonic Sciences in Spain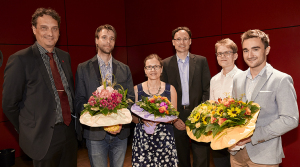 The Graduate School of Excellence Materials Science in Mainz (MAINZ) at Johannes Gutenberg University Mainz (JGU) has awarded visiting professorships to two outstanding scientists. The MAINZ Visiting Professorships 2018 were presented at a gala event to Professor Anna I. Krylov, a theoretical chemist at the University of Southern California, USA, and to Dr. Klaas-Jan Tielrooij, a physicist at the Institute of Photonic Sciences in Barcelona, Spain. Visiting professorships were established by MAINZ to attract foreign scientists to the various departments of the Graduate School so they can do part of their research here and work with the doctoral candidates studying at MAINZ. Their input can take the form of lectures, seminars, and workshops that help in training doctoral candidates at MAINZ. The MAINZ Visiting Professorships have been awarded annually since 2013.
Anna I. Krylov, University of Southern California, USA
Professor Anna Krylov is an internationally renowned scientist in the area of theoretical chemistry. She is particularly well known for her many contributions dealing with method development in quantum chemistry as well as state-of-the-art applications of quantum chemistry to pending chemical problems. Her focus is on electron correlation and the treatment of electronically challenging states (radicals, excited states, etc.) using coupled-cluster and equation-of-motion coupled-cluster methods. Anna Krylov received the Bessel Research Award from the Alexander von Humboldt Foundation in 2011 and is a member of the International Academy of Quantum Molecular Science since 2015.
Klaas-Jan Tielrooij, Institute of Photonic Sciences, Spain
Dr. Klaas-Jan Tielrooij is a highly multidisciplinary scientist with a track record across the fields of ultrafast phenomena, nanotechnology, and graphene and related 2D layered materials. He received the FOM Physics Thesis Award 2011 for his PhD research at AMOLF in Amsterdam and holds a degree in Innovation and Entrepreneurship from Chalmers University as well as a postgraduate diploma in Economics from the London School of Economics. He joined the Institute of Photonic Sciences in Barcelona in 2011 with an NWO Rubicon grant. Here he combines studying fundamental physics with identifying potential applications in the fields of photodetection, quantum technologies, and telecommunications.
Photo:
(fltr) JGU Vice President Stefan Müller-Stach, MAINZ Visiting Professor Klaas-Jan Tielrooij, MAINZ Visiting Professor Anna I. Krylov, MAINZ Director Mathias Kläui, MAINZ awardee Hagen Söngen, and MAINZ awardee Philipp Heller
photo/©: Frank Wiedemeier, MAINZ
Contact:
Dr. Michael Fuchs
General Manager
Graduate School of Excellence Materials Science in Mainz (MAINZ)
Johannes Gutenberg University Mainz
55099 Mainz, GERMANY
phone +49 6131 39-26984
fax +49 6131 39-26983
e-mail: mainz@uni-mainz.de
http://www.mainz.uni-mainz.de
http://www.mainz.uni-mainz.de/2562.php
05.07.2018

Johannes Gutenberg University Mainz ranked number 1 in the natural sciences in Germany in the 2018 DFG Funding Atlas
JGU leads the list of higher education institutions with the highest DFG awards for 2014 to 2016 / Well ahead in funding per capita and in the discipline of physics
In the 2018 DFG Funding Atlas published today by the German Research Foundation (DFG), Johannes Gutenberg University Mainz (JGU) tops the rankings in the natural sciences, ahead of the universities of Hamburg and Bonn. JGU received the highest volume of DFG funding in the natural sciences – some EUR 70 million in total – in the period 2014 to 2016, which is more than any other German university. Compared to the previous three years, this represents an increase of more than 80 percent and an improvement of 13 positions in the national ranking. Remarkably, JGU leads by an even greater margin in the ranking based on funds allocated per researcher, in this case ahead of the Humboldt-Universität zu Berlin. According to the 2018 Funding Atlas, JGU ranks among the institutions with an overall profile that places a strong focus on the natural sciences.

Physics at Mainz University has a large share in this success, namely with its PRISMA Cluster of Excellence and a DFG-funded collaborative research center (CRC) in the field of Particles, Nuclei and Fields as well as another CRC in the field of Condensed Matter Physics. Both research areas of JGU Physics are explicitly named in the 2018 Funding Atlas. In the field of physics alone JGU is leading nationwide by a significantly greater margin than in the natural sciences as a whole. Mainz University also achieved an outstanding placement in mathematics, which is ranked 9th.

"We are proud of the fact that JGU is at the top of all German universities in the natural sciences. This excellent success is affirmation of our great achievements, particularly those of our physicists and mathematicians in the key profile areas of our university," said Professor Georg Krausch, President of Johannes Gutenberg University Mainz. "This encourages us to persist with our profile-forming strategy and the associated expansion of cutting-edge university-based research based on specific projects." The success achieved by JGU in acquiring DFG funding is confirmed by the figures for European Research Council (ERC) funding in the years 2014 to 2016, which are also listed in the 2018 Funding Atlas. With four ERC grants in the natural sciences, JGU is in the leading group here as well. Only Heidelberg University with seven ERC grants and the University of Cologne and the Technical University of Munich with five ERC grants each were able to win more funding for top researchers.

JGU has also proved successful in the humanities and social sciences, where it improved its ranking by five places to 17th. The humanities even managed a solid 13th place. At a total of almost EUR 22 million in funding from 2014 to 2016, DFG funding for Johannes Gutenberg University Mainz was some EUR 4 million higher than in the previous three years. "Given our financial position, which is below the national average, this is a considerable achievement," concluded Krausch.
Contact

Petra Giegerich

Head of Press and Public Relations

Johannes Gutenberg University Mainz

55099 Mainz

Tel.: +49 6131 39-22369

Fax: +49 6131 39-24139

presse@uni-mainz.de
29.05.2018
MAINZ Visiting Professor Klaas-Jan Tielrooij highlighted in Science Advance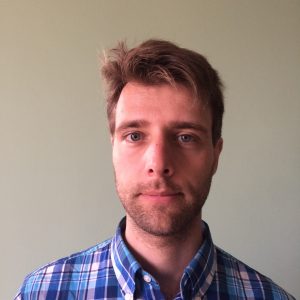 The photoexcited graphene puzzle solved
A boost for graphene-based light detectors
Light detection and control lies at the heart of many modern device applications, such as the camera you have in your phone. Using graphene as a light-sensitive material for light detectors can offer significant improvements with respect to materials being used nowadays. For example, graphene can detect light of almost any colour, and it gives an extremely fast electronic response within one millionth of a millionth of a second. Thus, in order to properly design graphene-based light detectors it is crucial to understand the processes that take place inside the graphene after it absorbs light.Mainz researchers Dr. Hai Wang, Prof. Dmitry Turchinovich, Prof. Mathias Kläui, and Prof. Mischa Bonn, in collaboration with scientists from various European labs, have now succeeded in understanding these processes. The project was led by Dr. Klaas-Jan Tielrooij from ICFO in Spain, who was recently elected as visiting professor at the Graduate School of Excellence "Materials Science in Mainz" (MAINZ).Published recently in Science Advances, their work gives a thorough explanation of why, in some cases, the graphene conductivity increases after light absorption and in other cases, it decreases. The researchers show that this behaviour correlates with the way in which energy from absorbed light flows to the graphene electrons: After light is absorbed by the graphene, the processes through which graphene electrons heat up happen extremely fast and with a very high efficiency.For highly doped graphene (where many free electrons are present), ultrafast electron heating leads to carriers with elevated energy – hot carriers – which, in turn, leads to a decrease in conductivity. Interestingly enough, for weakly doped graphene (where not so many free electrons are present), electron heating leads to the creation of additional free electrons, and therefore an increase in conductivity. These additional carriers are the direct result of the gapless nature of graphene – in gapped materials, electron heating does not lead to additional free carriers.This simple scenario of light-induced electron heating in graphene can explain many observed effects. Aside from describing the conductive properties of the material after light absorption, it can explain carrier multiplication, where – under specific conditions – one absorbed light particle (photon) can indirectly generate more than one additional free electron, and thus create an efficient photoresponse within a device.The results of the paper, in particular, understanding electron heating processes accurately, will definitely mean a great boost in the design and development of graphene-based light detection technology.REFERENCE
The ultrafast dynamics and conductivity of photoexcited graphene at different Fermi energies
Science Advances
A. Tomadin, S.M. Hornett, H.I. Wang, E.M. Alexeev, A. Candini, C. Coletti, D. Turchinovich, M. Kläui, M. Bonn, F.H.L. Koppens, E. Hendry, M. Polini and K.J. TielrooijFUNDING INFO
This work was funded by the E.C. under Graphene Flagship, as well as a Mineco Young Investigator grant.CONTACT
Klaas-Jan Tielrooij, klaas-jan.tielrooij@icfo.eu, +34691361210
Andrea Tomadin, andrea.tomadin@mac.com
28.05.2018
MAINZ Summary 2014-2016 fresh from the printer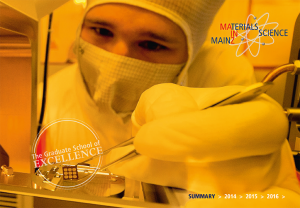 Finally, the newest MAINZ Summary, spanning the years 2014, 2015 and 2016, is out in its printed version and ready for download. We want to thank all of you that contributed to the Summary with your profiles, testimonials, photos and feedback!
23.05.2018
With tiny particles against major diseases