Florian Golling concluded his PhD in January 2015

"The Graduate School of Material Science (MAINZ) has been an important part of my Ph.D. This becomes especially obvious in retrospect, since I have been able to deepen my scientific knowledge as well as to grow and develop personally. This ideal setting was actively provided by MAINZ.
From a scientific perspective, I have very much benefited from the opportunity to visit conferences and summer schools in America, Japan and France: at such places, I have enjoyed the inspiring atmosphere and the interaction with other researchers. The ideas and knowledge, stemming from such journeys, have contributed to the progress of my Ph.D.
On a personal level, I have greatly profited from the mentoring program and the soft skill courses. At the beginning, I underestimated their significance and value. However, I quickly came to realize that I did not frequently and systematically analyze my current situation as well as future challenges – until I had become part of MAINZ. Ever since, I have started to more consciously and critically reflect on my decisions, which has crucially helped me to decide upon my future career path.
The annual seminars and other meetings organized by the MAINZ office or students fostered the interaction with other students from different disciplines within the wide field of materials science, which I have come to enjoy a whole lot, making the time in the graduate school a thrilling and versatile experience."
Angel Medina concluded his PhD in September 2012
"The interdisciplinary and international approach of the Graduate School MAINZ provides me with ideal conditions for my research. It allows me to exchange information with other PhDs during summer schools and to learn a vast amount from others."
Inga Zins concluded her PhD in April 2011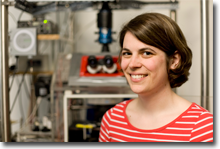 "While at MAINZ, it was particularly important for me that there was the opportunity to meet many researchers from other work groups and to interact with other doctoral students."