The training of the Graduate School Materials Science in Mainz (MAINZ) is designed to incite our students' enthusiasm for fundamental research in materials science and to prepare them for a future career. We aim at providing a most flexible and individually tailored training program, offering our PhD students a training structure that can be adapted to their individual career needs. This strategy is reflected by our training concept, which is based upon a well-balanced combination of independent high-level research using advanced methods and techniques of materials science and an individually tailored training program that provides our PhD students with a solid, broad and interdisciplinary background in the field, as well as with other relevant knowledge and skills individually needed. MAINZ provides a comprehensive graduate program combining two elements: Training through Research and Training for Life.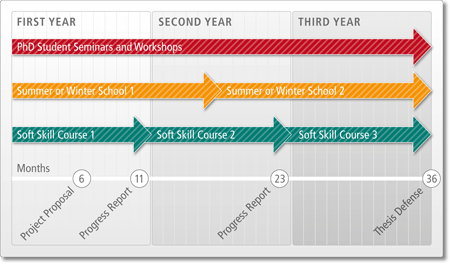 Structured PhD thesis period at MAINZ. Reporting periods and training modules are indicated.
Training and Policy Manual
Details of our supervision policy, the duties of our supervisors and co-supervisors, and the tasks of the Thesis Committee are listed in our Training and Policy Manual. Moreover, the Training and Policy Manual explains the guidance of the PhD student by preparing and discussing the project proposal, the CDTP as well as the project reports.